7 FEBBRAIO 2019 MILANO – BIKO CLUB
8 FEBBRAIO 2019 PERUGIA - REWORK CLUB
9 FEBBRAIO 2019 ROMA - MONK CLUB
Jimi Tenor – voce, sax, flauto, altri strumenti ed elettronica
Ekow Alabi Savage – batteria
Richard Koch – tromba
Johannes Schleiermacher – sax baritono, flauto
Niko Meinhardt – tastiere
Max Weissenfeldt – percussioni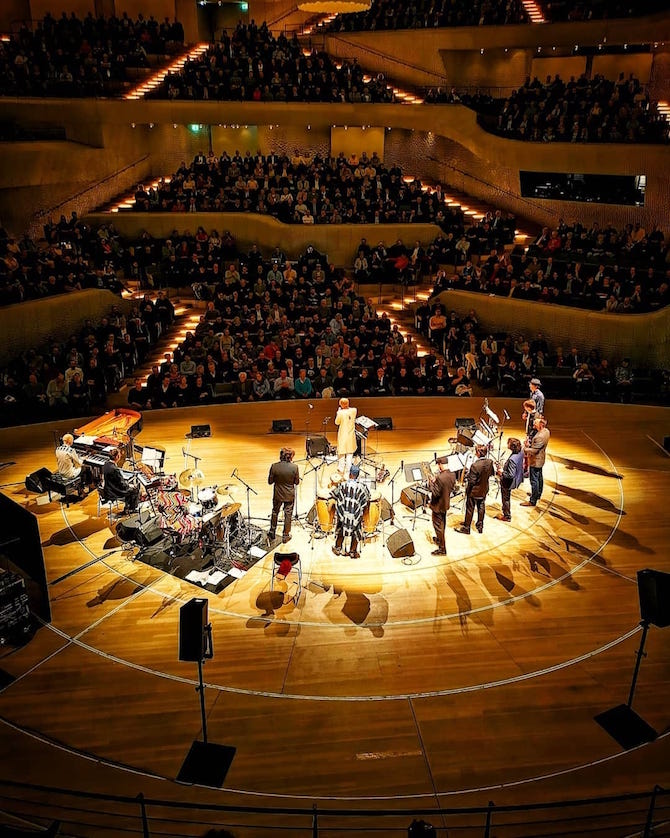 Nella foto Jimi Tenor & Big Band in Hamburg at Elbphilharmonie 29 Jan 2019
Oltre 20 anni di storia musicale alle spalle, questo il percorso di Jimi Tenor, artista di culto, impertinente multi-strumentista e produttore finlandese che col suo nome d'arte coniuga la passione per Jimmy Osmond e per il sax tenore, e che arriva in Italia per tre concerti per presentare dal vivo 'Order of Nothingness', il suo ultimo straordinario album, il primo targato Philophon.
Jimi Tenor  in venti anni di carriera ha spaziato tra i generi pur mantenendo sempre una personalissima visione di ricerca e sperimentazione. Si va dagli esordi Techno-Future Jazz-Xperimental (Sähkömies, 1994), all'Elettronica dalle sfumature Pop (Intervision, 1997 e Organism, 1999), all'ossessione per il Soul (Out of nowhere, 2000), a quella per il Jazz di Sun Ra (Heliopause, 2000), fino all'esplorazione di un più futuristico Jazz-Funk combinato all'Afrobeat in compagnia di Tony Allen (Inspiration Information Vol. 4, 2009) o dei Kabu Kabu (Joystone, 2007, 4th dimension, 2009,  The Mystery Of Aether,  2012), e ha pubblicato album su Warp, Kitty-Yo, Sähkö Recordings, Ubiquity, Kindred Spirits, Strut ed ora su Philophon Records.
Con Tenor in questo tour alle percusisoni anche il batterista e produttore e label manager della Philophon Max Weissenfeldt (The Poets of Rhythm, Whitefield Brothers) ed Ekow Alabi Savage (Ziggy Marley, Manu Dibango, Fela Kuti, Cedric Im Brooks, Eek-A-Mouse Black Heritage, Vitamin X).
Order Of Nothingness European Tour
Jan 29. Hamburg – Elbphilharmonie – Bigband
Jan 31. Berlin – Yaam – Band
Feb 01. Erfurt – Franz Mehlhose – Band
Feb 02. Frankfurt am Main – Horst – Band
Feb 03. München – Rote Sonne – Band
Feb 04. Rosenheim – Asta Club – Band
Feb 06. Innsbruck – Treibhaus – Band
Feb 07. Milano – Biko Club – Band
Feb 08. Perugia – Rework Club – Band
Feb 09. Roma – Monk Club – Band